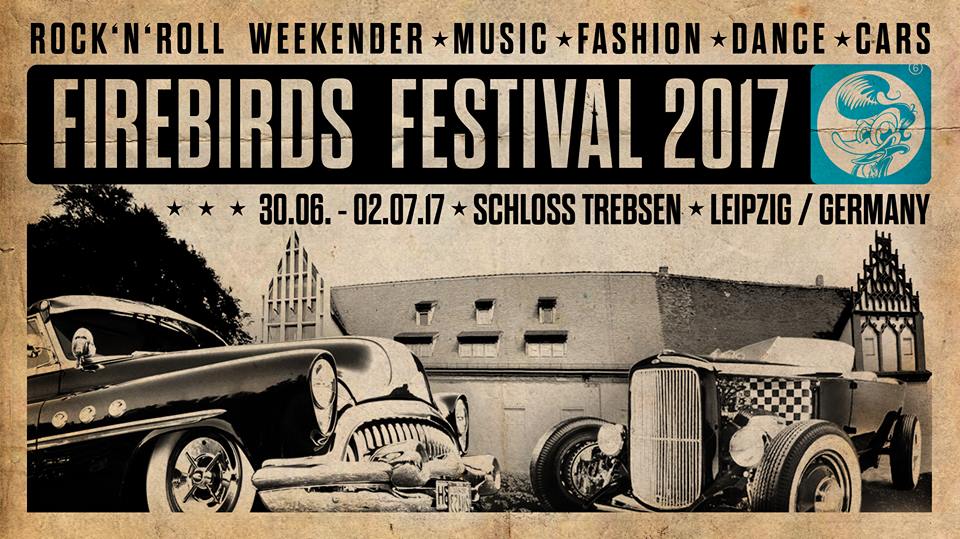 Macht mit bei unserem Facebook-Gewinnspiel und gewinnt mit ein bisschen Glück 2 Eintrittskarten zum Firebirds Festival 2017!
Was muss man machen um die beiden Eintrittskarten zu gewinnen? Ganz einfach, postet in dem Facebook-Gewinnspiel als Kommentar einen "Vierzeiler als Reim zu dem Firebirds Festival" und mit ein bisschen Glück sei ihr Gewinner dieser zwei Eintrittskarten zu diesem tollen Festival!
LINE UP:
FRIDAY
THE STARGAZERS (UK)
THE LEROI BROTHERS (USA)
THE FIREBIRDS (GER)
THE ROCK N ROLL SOCIETY (UK)
1955´ ELVIS, SCOTTY & BILL SHOW BY IKE & THE CAPERS (GER)
SHORTY JETSON AND HIS RACKETEERS (BE)
SATURDAY
NICO DUPORTAL & HIS RHYTHM DUDES (FR)
THE SHOOTING STARS (UK)
THE CRYSTALAIRS (GER)
ROY THOMPSON & THE MELLOW KINGS (FR)
THE BRICATS (GER)
THE HAYSTACK HI TONES (NL)
CAT LEE KING & HIS COCKS (GER)
THE HOWLIN´JAWS (FR)
THE FAIRYTALES (GER)
DIE BOOGIE BANAUSEN (GER)
SUNDAY
THE DESPERADOS (USA)
BB & THE BLUES SHACKS (GER)
JOHN LEWIS SOLO (UK)
MARCEL RIESCO & RAY ALLEN WITH BAND (USA/GER)
THE WISE GUYZ (UKR)
THE RHYTHM TORPEDOES (GER)
LITTLE LOU & BAND (FR)
NIFTY PLYMOUTH & THE SHOEGAZER (GER)
DJ LINE UP:
WILDCAT UDO
RED MOKUM
LUCKY SHOOTER
ATOMIC MO
OLDSCHOOL
TWISTIN SHARKY
BOOGIE JUNKIE
ROB POPP
DOO WOP BABY
MANU TANZRATTE
HEIDI
DANCECAMP TEACHER LINE UP:
BÄRBL KAUFER & MARCUS KOCH (GER)
VERONIKA PFEFFER & FLORIAN POGATS (GER)
AGNIESZKA CHERUBINSKA & GRZEGORZ CHERUBINSKI (PL)
JESSICA KAISER & MARKUS KAKUSKA (AT)
+ MANY MORE
SPECIALS:
FASHION LABELS, SHOWS & STORES
VINTAGE MARKET
RECORD HOP
DANCECAMP, SHOWS & WORLD CHAMPIONS
CARSHOWS, SHINECARS & HOT RODS
BURLESQUE & HULA WORKSHOPS
TATTOO, BARBER & STYLE
PINSTRIPING, MOSAIC & TIKI ART
DINERS CATERING
FLEAMARKET, R´N´R KIDS CLUB DAY CARE
TIMETABLE:
30.06.2017 DOORS OPEN: 17:00 START: 18:00
01.07.2017 DOORS OPEN: 10:00 START: 12:00
02.07.2017 DOORS OPEN: 10:00 START: 12:00
LOCATION:
Schloss Trebsen
Zum Schloss 1
04687 Trebsen
Germany 
BY CAR: 
Autobahn A14 > Abfahrt Grimma > Wurzen/Trebsen
BY TRAIN+BUS:
Bahnhof Leipzig > Bahnhof Grimma oder Wurzen > Bus Trebsen
BY AIRPLANE
Flughafen Leipzig/Halle, Flughafen Dresden, Flughafen Berlin
Das Gewinnspiel endet am Mittwoch 31. Mai 2017 um 23.59 Uhr.